Our VEnue and HygieNE CONCEPTWaldorf Astoria Berlin – an extraordinary experience!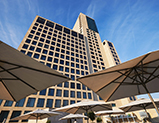 ---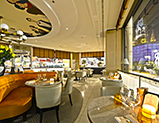 ---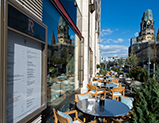 ---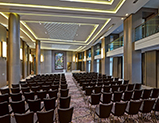 Waldorf Astoria Berlin is ideally located in the heart of western Berlin, right next to the famous Kaiser Wilhelm Memorial Church and close to Kurfürstendamm. The hotel's outstanding features include its unparalleled design and striking views over the capital.
Waldorf Astoria Berlin awaits you with its sophisticated ambience in a modern art deco style. Its architecture marks a continuation of the old western half of the city's renaissance while also showing a clear commitment to modernity.
Waldorf Astoria Berlin is situated in the "Zoofenster Berlin". It is a 118 metre, 32 storey tower with a plinth building designed by the architecture firm Christoph Mäckler Architekten. Located next door to the Zoological Garden and the railway lines, it acts as a contrast to the Kaiser Wilhelm Memorial Church.
Address:
Waldorf Astoria Berlin
Hardenbergstraße 28
10623 Berlin
T +49 (0)30 814 000 - 2222
www.waldorfastoriaberlin.com

Getting there – distance, travel time and costs:
"Zoologischer Garten" station: walking distance, approx. 10 minutes
Central station: 6 km, approx. 15 minutes, taxi: around EUR 15.00
Tegel airport (TXL): 10 km, approx. 15 minutes, bus: EUR 2.60, taxi: around EUR 25.00
Schönefeld airport (SXF): 25 km, approx. 40 minutes, bus: EUR 3.20, taxi: around EUR 50.00
Your health is important to us: The hygiene concept of INVESTMENTexpo
In order to offer all our guests the maximum of safety, we have developed a comprehensive hygiene concept together with the Waldorf Astoria, which we will adapt to current developments and legal requirements in the weeks leading up to the fair.

We would like to outline the basic principles in the following:
Equalisation of the use of lecture rooms and break areas
• There will be a continuous programme in all rooms without "break times". In this way, we will avoid accumulations in the foyers as is usually the case during breaks in conferences and meetings.
• Instead, we provide "all day" catering in the form of "market stalls" where you can get a variety of drinks and food. All "market stalls" are served and no buffets.
• So you decide yourself when you want to eat.
Distance and hygiene rules in the lecture rooms
• We will reduce the seating in the three function rooms, leave enough space between the individual chairs and move the chairs in the rows.
• Furthermore, all lecture rooms are equipped with windows, which we also open during the lectures to ensure air circulation.
• We will broadcast the discussions and lectures live on screens from the three lecture rooms to various locations in the foyers.
• In addition, we kindly ask you to wear masks in the lecture rooms.
Distance and hygiene rules on the break areas
• There will be distance lines at the served "market stalls".
• We will mark bar tables and tables with barrier lines in order to maintain distances there as well.
• We kindly ask you to wear masks in the break rooms outside the dining room and away from conversation.
Hygiene and safety for participants
• Each participant receives mouth-nose masks from us to change.
• We will set up disinfection stands at various locations.
Limiting the number of participants and participants from non-EU countries
• According to the current legal requirements of the State of Berlin, events with up to 300 participants are permitted from July 1, 500 participants from August 1 and 750 participants from September 1.
• However, we will limit the number of participants on site after the room, seating and distance concept has been worked out in detail. As of today, we are assuming a possible 320 to 340 maximum possible participants.
• As long as there are no further entry restrictions, we will exclude the participation of persons from non-EU countries.
• Speakers from non-EU countries and without residence within an EU country will be connected via online stream if possible or with pre-recorded videos.
• Furthermore, virtual tickets are now available and the discussions and lectures from the three lecture rooms will be transmitted to the Internet.