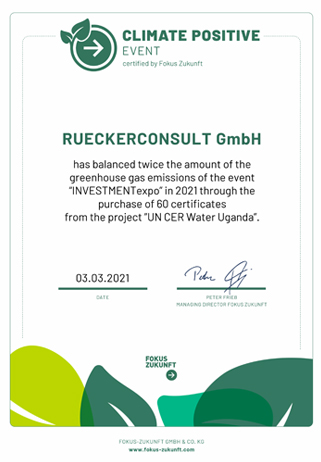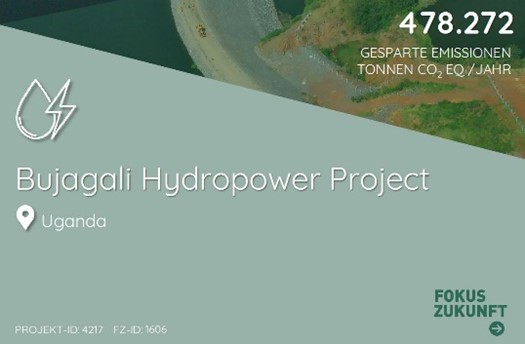 ---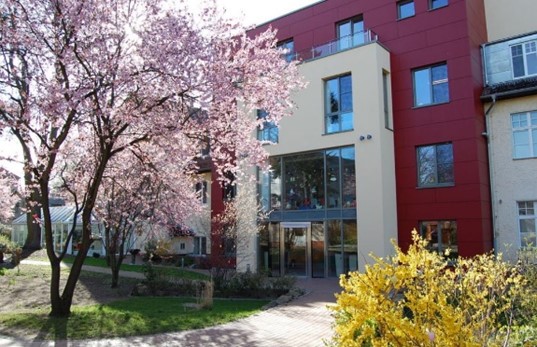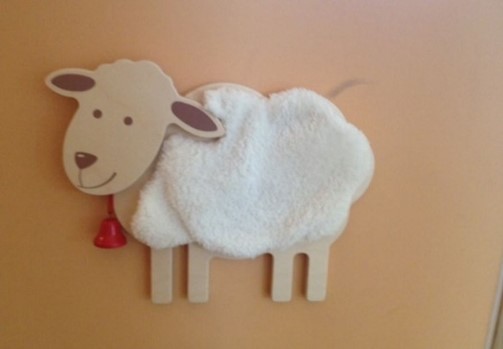 ---

ESG – environmental and social governance – is becoming increasingly important for all INVESTMENTexpo participants, and a corresponding amount of time has been dedicated to the topic on the programme.
As the organiser, we are also doing our part:
The INVESTMENTexpo 2021 is climate-positive
To achieve this, we are supporting the Bujagali Hydropower Project in Uganda. Hydropower is Uganda's most important source of electricity. Uganda has long suffered from a shortage of electricity, and this problem has become increasingly acute in recent years. While the government's emergency programme for thermal power generation will help in the short term, projects like Bujagali will benefit the region and the country as a whole in the long term. The project has been validated by TÜV Rheinland, holds the UN CER certification standard and contributes to the attainment of nine of the UN Global Compact goals. We have analysed the climate impact of the INVESTMENTexpo together with the sustainability consultancy Fokus Zukunft GmbH & Co. KG: The carbon footprint of the event is approximately 30 metric tons of CO2 equivalent. We have offset these emissions twice over by purchasing 60 certificates for hydropower generation in Uganda.
Download: Information Hydropower in Uganda
Social commitment – support for the Sonnenhof children's hospice
For every INVESTMENTexpo participant, RUECKERCONSULT will donate EUR 10 to the Sonnenhof children's hospice run by the Björn Schulz Foundation in Berlin.
Around 50,000 children and young people in Germany live with life-limiting illnesses. They and their families often wish to spend as much of their remaining time as possible at home and not in hospital. The Björn Schulz Foundation supports children, young people and young adults with life-limiting illnesses from the point of diagnosis. The Sonnenhof provides children and their families with comprehensive and professional support in the form of various outpatient and inpatient services.
Governance or corporate responsibility for us means the best possible health protection for the participants of INVESTMENTexpo
Your health is important to us. That's why there will be a comprehensive hygiene concept at this year's INVESTMENTexpo as well, consisting of distance areas, contact data collection, sufficient replacement medical masks and disinfectants, as well as regular room air cleaning that destroys possible aerosols. For this purpose, we were able to engage as hygiene partners the companies Blueplanet (www.blueplanetisgreen.com) and Ecabiotec (www.ecabiotec.de) as hygiene partners.